Twilight Actors And Actresses Biography.
Kristen Stewart
Date of Birth: April 9, 1990
Born in Colorado but raised in Los Angeles, Kristen Stewart, whose father is TV producer John Stewart, played her first role as Patricia Clarkson's tomboy daughter in the indie film The Safety of Objects (2001). Her next role was a co-starring one as Jodie Foster's diabetic daughter (also a tomboy) in Panic Room (2002). Originally, another young actress had been cast when Nicole Kidman was scheduled to play the lead. But when Kidman was injured and had to drop out, Foster took over the part and Stewart (because of her resemblance to Foster) was hired to replace the original young actress. Stewart was nominated for a Young Artist award as Leading Young Actress for her performance in the film.
Panic Room was a box office success, and Stewart was quickly hired to play Angel, the daughter of Dennis Quaid and Sharon Stone in Cold Creek Manor (2003), followed by the starring role as a girl who turns to crime to help her father in Catch that Kid (2004). After that, she played Lila in Undertow (2004) opposite Dermot Mulroney and Josh Lucas, for which she received another Young Artist award nomination.
It was when she landed the role of Bella Swan, a girl who falls in love with a vampire in Twilight that she achieved worldwide fame. Based on the Twilight series of books, the movie was an instant success and spawned four sequels—The Twilight Saga: New Moon (2009), The Twilight Saga: Eclipse (2010), The Twilight Saga: Breaking Dawn - Part 1 (2011) and The Twilight Saga: Breaking Dawn - Part 1 (2012). In January 2012, Kristen was named the face of Balenciaga Fragrance's new perfume.
During her spare time, Stewart enjoys surfing. She lives in Los Angeles and has been dating her Twilight co-star, Robert Pattinson, for several years.
Date of Birth: January 17, 1988
A native of Los Angeles, Nikki Reed became a screenwriter at the age of 13 and a film actress less than a year later. It started when director/writer Catherine Hardwicke began dating Reed's father, Seth, an art director who has worked on films such as Minority Report and I Heart Huckabees. Hardwicke got to know the young teen and became interested in writing a film based on her life as a rebellious 13-year-old girl. They wrote the first draft in less than a week while Reed was on winter vacation. Hardwicke hurried the film along, hoping to shoot it the next summer while Reed was still the right age to star in it.
The film, entitled Thirteen (2003), went into production when Reed was 14, and she took the co-starring role as Evie rather than playing Tracy, the role based on her own life. Working opposite Holly Hunter and Evan Rachel Wood, Reed won a 2004 Independent Spirit Award for Best Debut Performance, a 2003 Young Hollywood Award as "One to Watch - Female" and shared a Screenwriting Award with Catherine Hardwicke at the Nantucket Film Festival.
Back at school, Reed realized that she missed acting, and returned to work in the unreleased Man of God (2005) before re-teaming with Hardwicke for Lords of Dogtown (2005) starring Heath Ledger. Since then, she has completed the dark comedy Mini's First Time (2005) with Alec Baldwin and American Gun (2005) with Forest Whitaker. On television, she played a recurring role in the hit series The O.C..
Catherine Hardwicke
When Catherine Hardwicke was chosen to direct the screen version of the popular book Twilight, she cast Reed as Rosalie, the sister of the lead character, Edward Cullen. Although Hardwicke didn't continue with the series, Reed has since reprised the role, working with new directors in the sequels, The Twilight Saga: New Moon (2009), The Twilight Saga: Eclipse (2010), The Twilight Saga: Breaking Dawn - Part 1 (2011) and The Twilight Saga: Breaking Dawn - Part 2 (2011).
In October 2011, Nikki married American Idol contestant Paul McDonald. When not working, Reed is an accomplished gymnast and equestrian. She also enjoys painting.
TAYLOR LAUTNER
Date of Birth: February 11, 1992
Born in Grand Rapids, Michigan, Taylor Lautner began martial arts training when he was six. After winning local tournaments, Taylor won three first place trophies when he competed in his first national karate tournament at age seven. At eight, Taylor was invited to represent the United States for the 12 and under age division for the World Karate Association. Taylor became the Junior World Forms and Weapons Champion, triple gold medal winner.
Because of his talent as a martial artist, Taylor was chosen for a small budget movie about martial arts fighters, Shadow Fury (2001). Bitten by the acting bug, Taylor moved with his family to Los Angeles, where he began landing guest appearances on hit TV series such as The Bernie Mac Show, Summerland and My Wife and Kids. He also performed with the LA Hip Kids, a Hip Hop Dance Performance Group, and Hot Shots, a Jazz dance group.
His second role in a film was playing Shark Boy in the major motion picture The Adventures of Sharkboy & Lavagirl in 3-D (2005), directed by Robert Rodriguez. He gained a huge following of fans after playing Jacob in the Twilight series of movies and although it was rumored that he would be replaced in the sequel, The Twilight Saga: New Moon (2009), his hard work won over producers. He spent hours in the gym to gain enough muscle and weight to play the character, who grows enormously in the second instalment. He also appeared in the rest of the films in the Twilight Saga films—The Twilight Saga: Eclipse (2010), The Twilight Saga: Breaking Dawn - Part 1 (2011) and The Twilight Saga: Breaking Dawn - Part 2 (2012).
In his spare time, Taylor enjoys football and baseball.
Twilight Actors And Actresses
Twilight Actors And Actresses
Twilight Actors And Actresses
Twilight Actors And Actresses
Twilight Actors And Actresses
Twilight Actors And Actresses
Twilight Actors And Actresses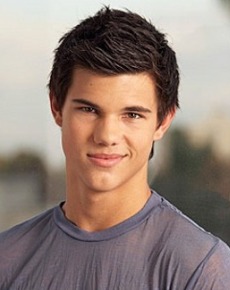 Twilight Actors And Actresses
Twilight Actors And Actresses
Taylor Lautner Plays Football On Jimmy Fallon 2/2/2012
Happy 22nd Birthday Kristen Stewart